Lasermach-Rent: Laser welding machines rental
Rental of laser welding equipment for professionals.
Reliable Laser welding equipment rental service from Lasermach
Rental of handheld Welding Laser Machine - Welding Laser Rental
Why do you need a welding equipment rental service?
Many smaller companies rarely need their own Laser welding technology. Even larger companies cannot and do not want to maintain specific capacities for every individual project. In addition to contract welding, which we also offer to our customers, a rental service for Laser welding technology is the ideal way to flexibly create resources for welding work at short notice or even to quickly expand existing capacities.
Renting Laser welding equipment is cheaper for some projects than purchasing your own equipment.
If you only need welding equipment occasionally, Lasermach's's rental service is a very economical solution. Our rental laser welding equipment is, of course, state of the art and well maintained, so you won't notice any difference compared to a new piece of equipment. You can flexibly determine the rental period yourself. We have rental models that are available by the day, by the week and by the month. Since the number of our rental devices is limited, we recommend that our customers register their needs as early as possible so that the desired device is available when you need it.
But also for testing purposes you can rent our Laser welding equipment at a reasonable price.
Test your new laser welding technology before you buy: If you are still not sure which welding technology is best suited for your requirements, you can rent our Laser-welding equipment at a reasonable price. Try out if handling, laser welding process and other aspects are suitable for your requirements. We offer competitive rates for laser welding equipment rentals, whether you need a machine for just a day, a week, or by the month. We will find the perfect individual service solution for you.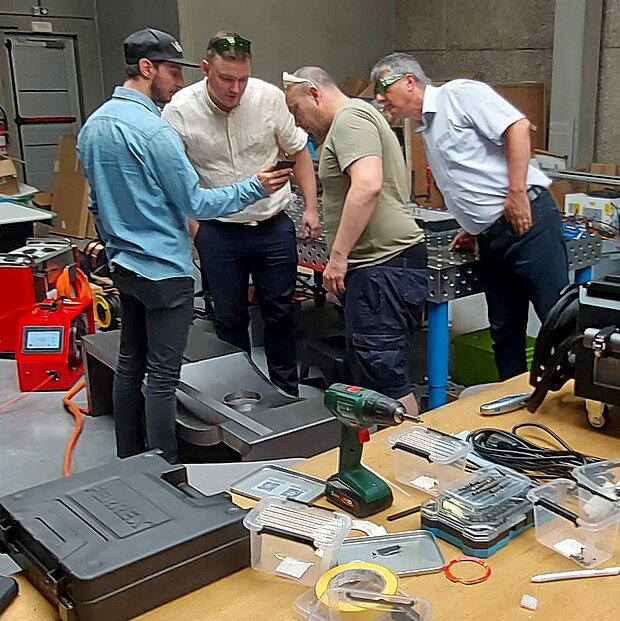 LOOKING TO RENT A HANDHELD LASER WELDING SYSTEM?
Rent a laser welding system before you Buy - Recuperate your rent partial when you finally buy!
A handheld laser Welding Machine is not a cheap investment if you do not know if this technology is good for your production. If you first want to test you can always rent a handheld laser welding machine to test and to learn if it is really something for your production. When you decide to buy finally then you can partly recuperate your paid rent!
From initial Idea to Series Production
In operational tests of new processes under real world production conditions, the use of rental welding laser systems can be a fast and cost-effective intermediate step to validate process stability. All without investment risk as well as full support of our application engineers.
All our lasers welding units are mounted on stable rollers and can be temporarily integrated into production lines without any reconstruction measures. Electricity, water and fibre optic cables are sufficient to get laser rental systems ready for operation at any location. Our commissioning and trainer teams will support you in integrating them into your production environment. Of course, the Lasermach application engineers are also available on site to check and optimize processes and parameters developed in our application laboratories in live operation.
The time frame and the scope of the rental will be adapted to your needs. The spectrum ranges from laser welding units rental with fiber optic cable and processing optics to to provision of complete systems including coolers and other components.
Lasermach direct rental service
Rent from the maker itself!
Renting from Lasermach direct
Soon available
CE territory
Our Rental Partners
Support from nearby
Our Rental partner for France : Setin location soudage
Rental of handheld Welding Laser Machine - Welding Laser Rental
The advantages of mobile laser welding systems can also be used on a rental basis. Above all, the time frame and the scope of delivery are adapted to the needs of the customer. The spectrum ranges from the rental of the pure laser beam source with fiber-optic cables and processing optics, which is temporarily integrated into an existing system technology of the customer, to the provision of a complete portable laser system, which contains all the necessary system components for processing and as a stand-alone System can be put into operation regardless of the existing infrastructure at the customer.
Advantages of a renting laser welding equipment:
discover the newest and latest amazing technology of laser welding at low cost!
needs-based availability of the right system
Practical testing of new procedures/technologies and process parameters without high risk
Testing of new processes with no changes to running production lines and lasers
Buffering of capacity bottlenecks without invest
Replacement of old, slow and much more expensive welding technology without much loss of time
Costs incurred only as needed (liquidity, tax benefits)
Investment safety for new purchases of lasers due to prior practical testing
Fast availability of the appropriate system configuration tailored to requirements
Buffering of capacity bottlenecks
Posibility to buy
Rental equipment has many advantages
Renting laser welding equipment is particularly uncomplicated at Lasermach. Simply fill out the contact form and name your preferred machine. We will check availability and contact you as quickly as possible to clarify everything else. By the way, our telephone hotline is of course also available for individual advice.
Let us convince you of our services - without risk
Since our rental service offers maximum flexibility in the rental period, you can rent any available laser welding equipment and test it extensively before you decide to buy. Test all the functions and the performance of the laser welding equipment in everyday use under your individual working conditions. If the device does not meet your expectations right away, we will certainly find a suitable solution together - and you can also test it accordingly with the Lasermach rental service.