THE WORLD-CLASS LASER WELDING MACHINE MANUFACTURER
The Best or Nothing!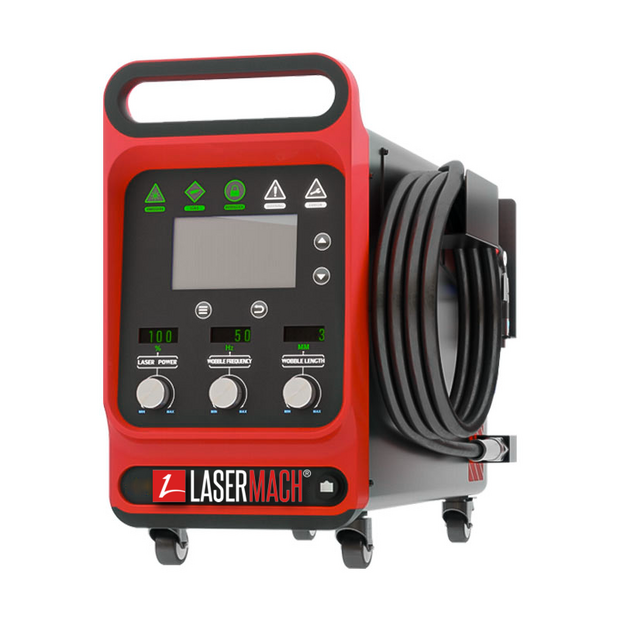 PhotonWeld A-PRO
New Rugged and rain proof laser Welding Machine - Making 'Smart' More Simple
PhotonWeld A-PRO: Innovation meets Tradition
Laser Welding Machines with the sensational feeling and the looks of Arc Welding Machines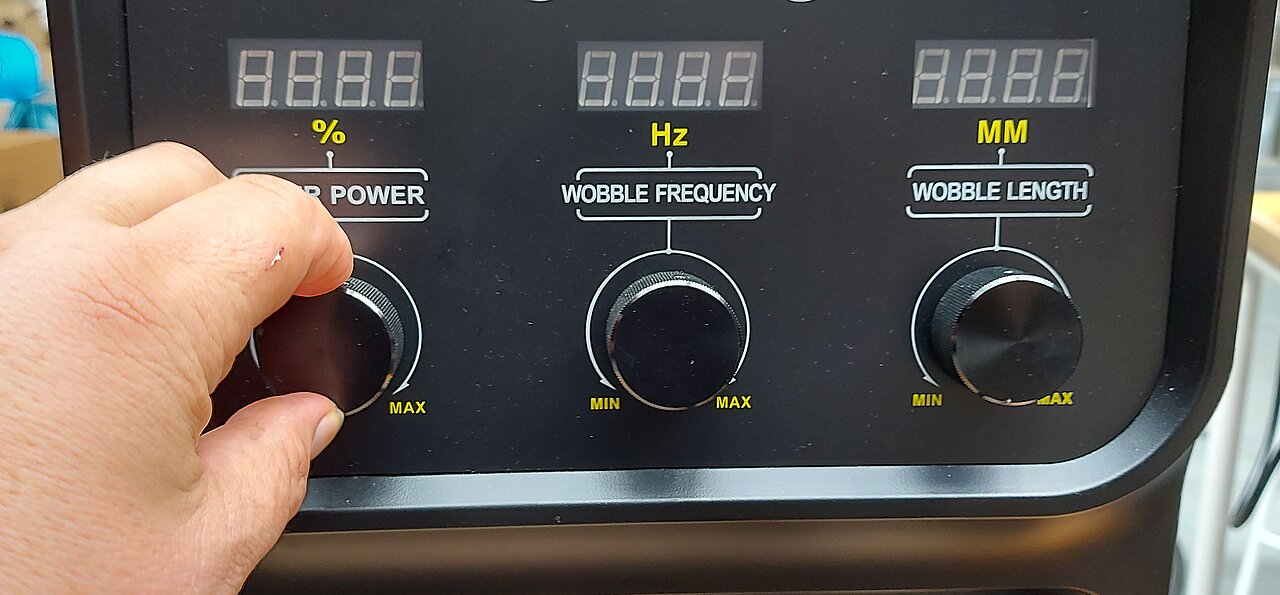 It is obvious that this machine has been developed by Welding specialists for the best welders
THE IMPORTANCE OF FEEDBACK IN SWITCHES AND DIALS
User interfaces have always been a vital aspect of the working experience. The look, feel and method of interface interaction is one way that machine manufacturers separate themselves from competing machine makers. In the industry electromechanical switches play a large role in defining the touch, feel of interface actuation.
As the gateway to a user interface, a switch or dial solution must have a desirable appearance and feel. To achieve this result, we worked closely together with major automotive switch manufacturers to optimize aesthetics, ergonomics and performance. The result is that even with gloves on, you feel the clicks in the rotary dials. This selection dials do give you the feedback when turning. You do even not have to look to know how much you did set the parameters up or down.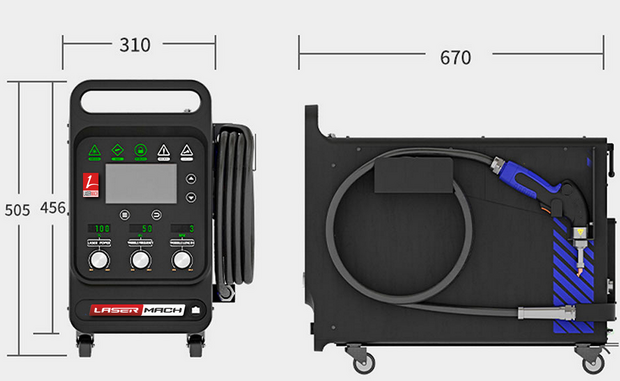 Compact and Portable Laser Welding Machine
PhotonWeld A-PRO : "Smart" Made more simple
| Serie PhotonWeld A-PRO | | PhotonWeld A-PRO-T70 | PhotonWeld A-PRO-T55 | PhotonWeld A-PRO-T40 | |
| --- | --- | --- | --- | --- | --- |
| Max Welding Penetration - Single side Welding | | | | | |
| Stainless Steel | | 7.0mm | 5,5mm | 4,0mm | |
| Carbon Steel | | 7,0mm | 5,5mm | 4,0mm | |
| Galvanized Sheet | | 6,0mm | 5,0mm | 3,5mm | |
| Aluminium | | 6,0mm | 5.0 mm | 3,5mm | |
| Fibre cable length | | 10m | 10m | 10m | |
| Power supply cable | | 10m | 10m | 10m | |
| Weight | | 46kg | 41kg | 38kg | |
| Dimensions (L-H-W) | | 673-505-310mm | 673-505-310mm | 673-480-310mm | |
| Operating temperature | | -20 ~ +60°C | -20 ~ +60°C | -20 ~ +60°C | |
| Active cooling with compressor | | | | | |
LASER WELDING MADE SIMPLE !!
Most Easy controllable Laser welding machine, 3 rotary buttons for the 3 most important functions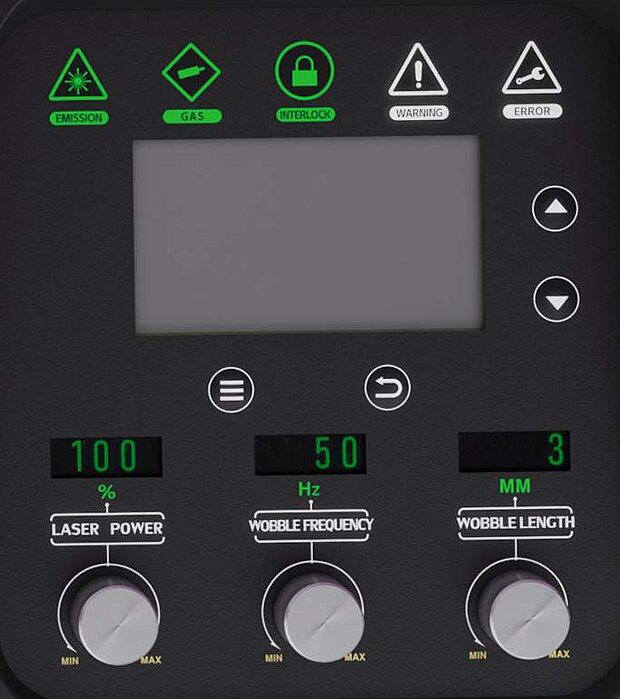 Innovative Control Concepts with gives you the feeling of using a standard Welding Machine
The only Synergetic Laser welding controller that works and feels like a normal welding machine
FOOLPROOF OPERATION !
MAKE IT SIMPLE
Step 1: Select your material on the screen
Step 2: Select your thickness to weld on the screen
Step 3: Select if you are welding with or without wire infeed
Start Welding!
==>Thats all it needs to make a perfect laser Weld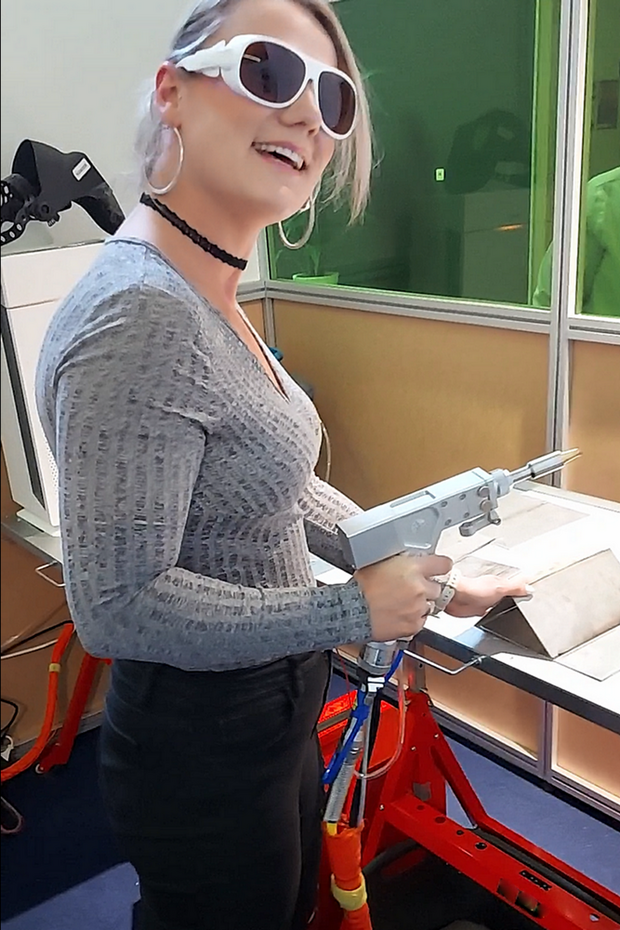 NEW Synergic Control in Laser Welding : constant quality and rapid welding
Very simply, synergic control in a Laser welding machine refers to a machine that automatically sets the welding parameters, according to material to weld.
Human control alone is no longer enough in precision industrial processing where instruments such as welding machines are used. Only highly specialised workers can continue using manual welding machines, but this entails a high cost to companies where many high-skill welders need to be employed in the production line. An unskilled welder could make mistakes and slow down the whole work process, inevitably causing delays in deliveries and a rise in costs.
Today, the issues due to human error in welding are much lower thanks to technologies that make these machines synergic.
A synergic laser welding machine helps the worker not make mistakes, work quickly and with always-high quality standards. Our PhotonWeld A-Pro most advanced digital laser sources for welding does have selectable memories where all the settings are ready to go, depending on the material to be welded, the thickness of the material used, and if there is infeed wire chosen.
With these synergic welding machines, perfect beads can be made, quickly, even with less specialised welders.

Very visible and bright Alarmlights on the front screen
See immediatly when gas pressure is low or when the laser is on
SmartCool i-drive Inverter Compressor
Taking efficiency even further
with liquid gas injection cooling
direct into the lasersource
UNBEATABLE EFFICIENCY, IN EVERY LOAD CONDITION
Maximum reliability, wide operating range, continuous capacity modulation, class A efficiency. The advantages of the ecolener formula represents the no-compromise solution of the new range. The result is a unit that focuses on efficiency in all load conditions, overcoming the limitations traditionally imposed by the other cooling systems
Our High efficient Heat pump with invertor drive reduces drastic the electrical consumption
Heat pumps are a mature technology that is much more energy efficient than any other cooling or heating technology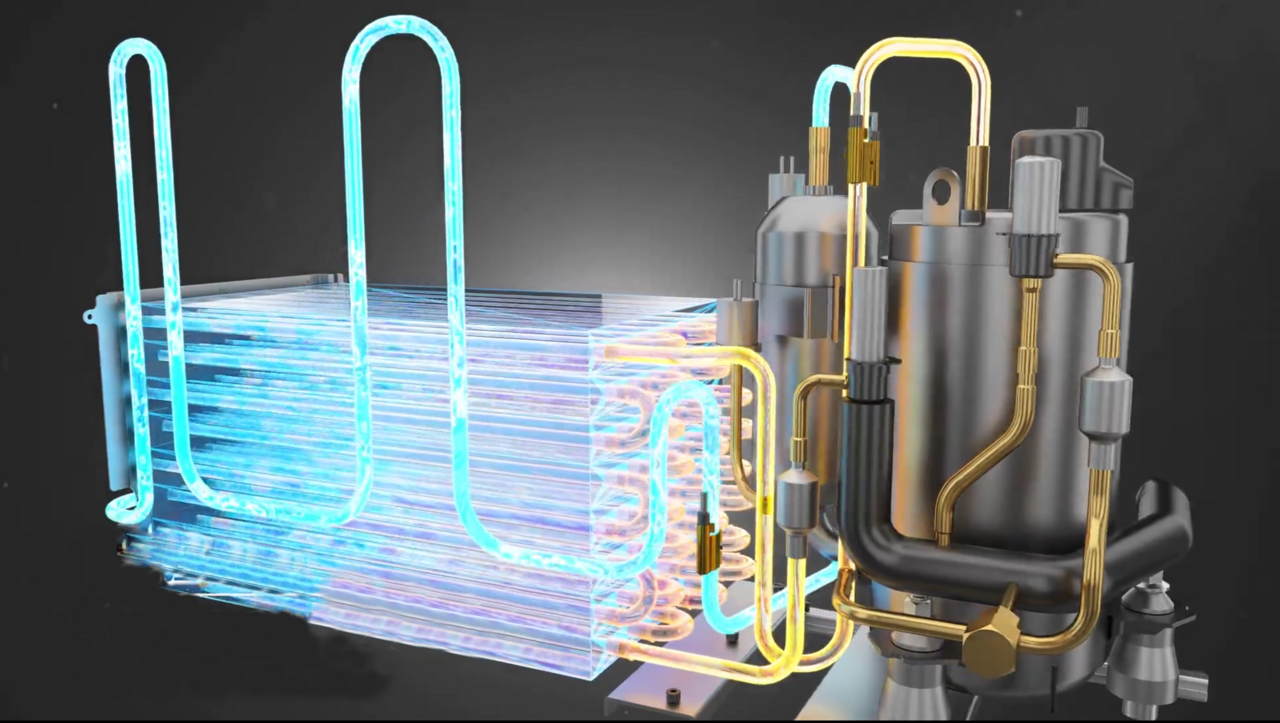 Standard with digital wire feeder
highest productivity for the laser welding pros.
Laser Automatic Wire Feeder - Filler Wire Feeding Machine Digital Controlled is for us a standard
For Wire Type: Stainless Steel, Carbon Steel, Alumimum, Alloy, cupper, etc = We use standard welding wires on standard rolls
The cold wire feeder for Laser Welding by Lasermach offers highest productivity for the laser welding pros.
The lasermach Feed wire feed for Laser welding units ensures superior quality and high speed Laser welding with perfect precision. For this purpose, the automatic wire feed has a fully digital control, a tacho-controlled feed motor, and a 4-roller high-precision feed for precise wire feeding.
The Lasermach cold wire feeder ensures fool-proof feeding and reliable results without spatter in combination with the Laser welding unit when the maximum deposition rate is required in Laser welding. It is ideal for all laser welding tasks in which a filler metal is essential.
4-roller precision wire feed.
The 4-roller precision wire feed with tacho-controlled feed motor ensures precise wire feeding.
Digital speed control.
Ensures precise and reliable cold wire feeding while welding
Direct connection to the power source.
Simply connect the Lasermach Feed to your PhotonWeld A-PRO welding unit using the dedicated cable. This will exchange all relevant information and allow integrated control between your PhotonWeld welding unit and the automatic wire feed.
New design laser welding gun / laser torch
Light weight, small size, ergonomic design and comfortable grip;
Beautiful weld, high speed, no traces of welding, no discoloration, no need to polish afterwards;
Getting started with the operation is easy and the demands on the operators are extremely low.
The new laser manual welding head has an international standard two colour warning light, which conforms to EU safety production standards.
Revolutionary lightweight welding torch
Maximum performance. Minimum loss.
Our goal is to optimize the beam delivery from the high power laser to the work piece. Since our customers demand high performance, flexible solutions and no loss of power or time, we continuously work to improve and increase the possibilities of laser welding technology.
Built-in Wobble Welding for Increased Productivity
Create highly aesthetic seams and weld parts with poor fit up

Adjustable Wobble frequency for the best results

Adjustable weld width from 0.1 mm up to 5 mm optimizes results

Wobble parameters are preprogrammed and can be adjusted on the fly, saved, and recalled immediately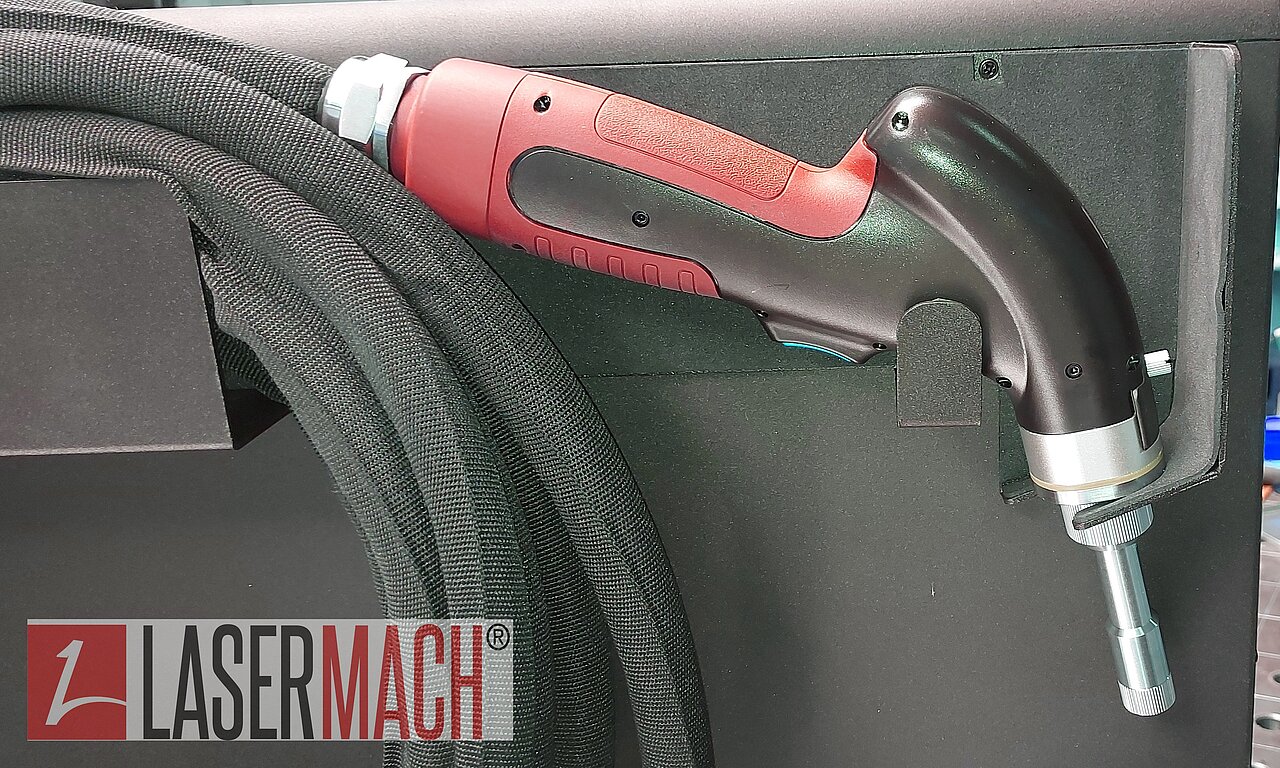 Ultra light and flexible torch
Only 595 gramm included the cable coupling
With a collimated QCS interface, it greatly reduces the volume, lenght and weight of the welding torch to only 595 gram
The fiber collimator is an important component of laser devices such as isolators and circulators. It is formed by precisely aligned the optical fiber and the focusing lens. It can not only collimate the beam output from the optical fiber but also couple the collimated beam into the optical fiber.
A compact and air-cooled fiber connector design including integrated collimating optics. The QCS is specially designed for diffraction limited medium-power fiber lasers. Built with standard or customized optical fiber. Compared with the conventional collimator, it has higher reliability and can withstand higher power laser.
Super high speed Wobble head technology
2-D dynamic programmable beam motion
The concept of the 2-D dynamic beam motion or lineair wobble head technology. Independent control of the amplitude and frequency of the oscillation is achieved through a high speed servo controller, allowing more flexibility in stabilizing the keyhole melt during the welding process.
Stability of the keyhole melt is a critical factor when laser welding dificult highly reflective materials such as copper and aluminum. This is partly due to the tendency to spatter, and in the case of some aluminum alloys, a high level of porosity due to the viscosity and surface tension of the melt when using more traditional laser welding techniques. Recent studies have shown the reduction or elimination of these problems with the beam wobble technique, including a recent systematic study with and without fller wire on automotive aluminum alloys.
Overall, the wobble head technique allows for better temperature management of the part. Because the beam passes near any given point of the weld multiple times, the ramp in temperature and cooling rates is slower than in traditional laser welding, which helps eliminate defects and manage spatter.
In addition, this welding technique is compatible with typical welding accessories such as assist gas ports and coaxial nozzles that enable plume suppression and can help control spatter; techniques that are not readily compatible with the scan heads used in remote welding.
In addtion to stabilizing the keyhole melt and reducing porosity in the subsequent weld, the beam wobble technique has proven valuable for alleviating the part-fit requirements for laser welding. Using one of the programable shapes (infnity in this case) and optimizing the amplitide and frequency of the oscillation, an increase in the acceptable seam gap of three times that achieved in conventional laser welding has been demonstrated.
A compact and air-cooled fiber connector design including integrated collimating optics.
THE LIGHTEST AND SMALLEST HANDHELD WELDING TORCH IN THE INDUSTRY
The welding torch design is super compact and very ergonomic, light, high comfortable to hold and easy to operate with even great acces to confined spaces.
595 grams
270mm x 230 mm total length total height
Ergonomic Design
Status Indicator
Auto centering of Laserbeam after crash
Robust construction
Well balanced and high comfortable

available with a selection of nozzle tips to optimize different joint types.

Single Trigger Operation
QCS Fibre Optic Cable triple protected
10 meter fiber cable to reach any corner of a big part
Dual safety light build-in
Auto wire feededing by continious push, auto wire retracting by short push
The use of collimated QCS interface greatly reduces the size and weight of the welding torch,only 595g. The optical design is perfectly matched with the QCS output head, the transmission efficiency is high, and the heat generation is small. In addition, the torch has a built-in swing function that allows the operator to consistently and safely perform high-quality welds throughout the day with dual safety light buttons.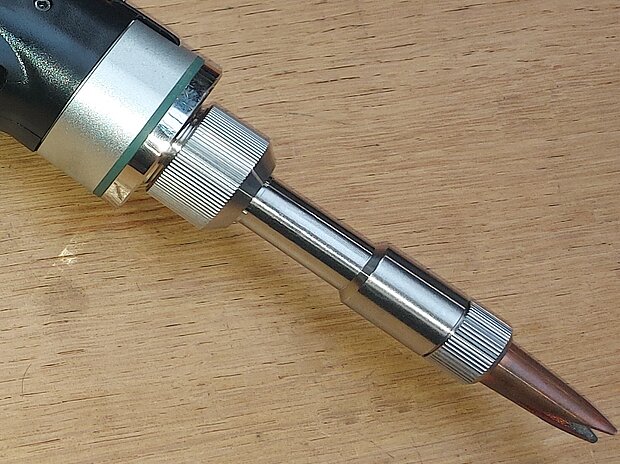 Fast adjustable and changeable Nozzle
Weld always with the perfect nozzle and the exact focus length
Adjust the focus length of your welding nozzle in seconds without rotation of the nozzle tube
Change your nozzle, and only the top of the nozzle tube in a flash
Never lose time with adjusting of totated nozzle
Custom made nozzles are easy to make
different nozzle-ends available for specific use
changeover from nozzle in less than 20 seconds

Avoid A broken Fiber Cable
Multiple fiber cable protections
Triple protection around the fiber cable
High protective stainless steel Anti bending unit at cabinet exit avoid cracking of the fiber cable when pulling on the torch cable
Cable exit from the torch is mounted to the front at the side of the machine to avoid bending
Safety First: Build-in Safety indicator
Safety indicator on torch for activation or stop of the laser beam
PhotonWeld A-PRO: Full CE Safety certified Handheld Laser Welding Machines
Equiped with all CE requested Safety accesoiries connections as standard
Laser beam Emission indicator + external emission warning indicator control
Remote interlock connector with Multi safety interlocks:
Nozzle contact interlock
Door contact (external) interlock
Foot pedal (dead's men pedal) interlock ready (optinal),
Hardware Key control lock
Internal (and external - optional) double wired emergency stop
Failsafe start-stop control
WE HOLD SAFETY OF PEOPLE IN HIGH ESTEEM!
Super fast changing of protection window.
No more messing around with exchanging protective lenses or never having to worry about dirt in the torch again!
Protective Window for laser welding
Our ultra-clean protection windows are made of plasma fused quartz and optimized for laser welding application and are very transparent to the infrared laser light around 1070 ~1080 nanometer wavelength. They also offer good resistance to high auxiliary gas pressures, which protects the collimator lens and focus lens. This protective window is mounted just in front of the focussing lens for laser welding – it protect the laser lens.

Our PhotonWeld A-PRO laserWelding Machines undergo intense testing.
If at any stage a product doesn't match up to our high quality standards, it's sent back to the drawing board.
TESTING PhotonWeld A-PRO Series
Intensive Drip and Spray Water Testing following IPX3 protocol
THE RAIN ROOM
Our very own weather machine. This sophisticated testing facility is designed to simulate a wide variety of rain conditions. Using specially engineered rain nozzles strategically positioned in the chamber, we test a Machine waterproof design in conditions that range from light drizzle to wind-driven rain.
Oscillating tube
The oscillating tube is made of stainless steel equipped with multiple special spray nozzles. The oscillating movement range of the spraying tube is reaching to ±60° in this test.
Drip Tray
The drip tray is made of stainless steel, and the drip holes are evenly distributed.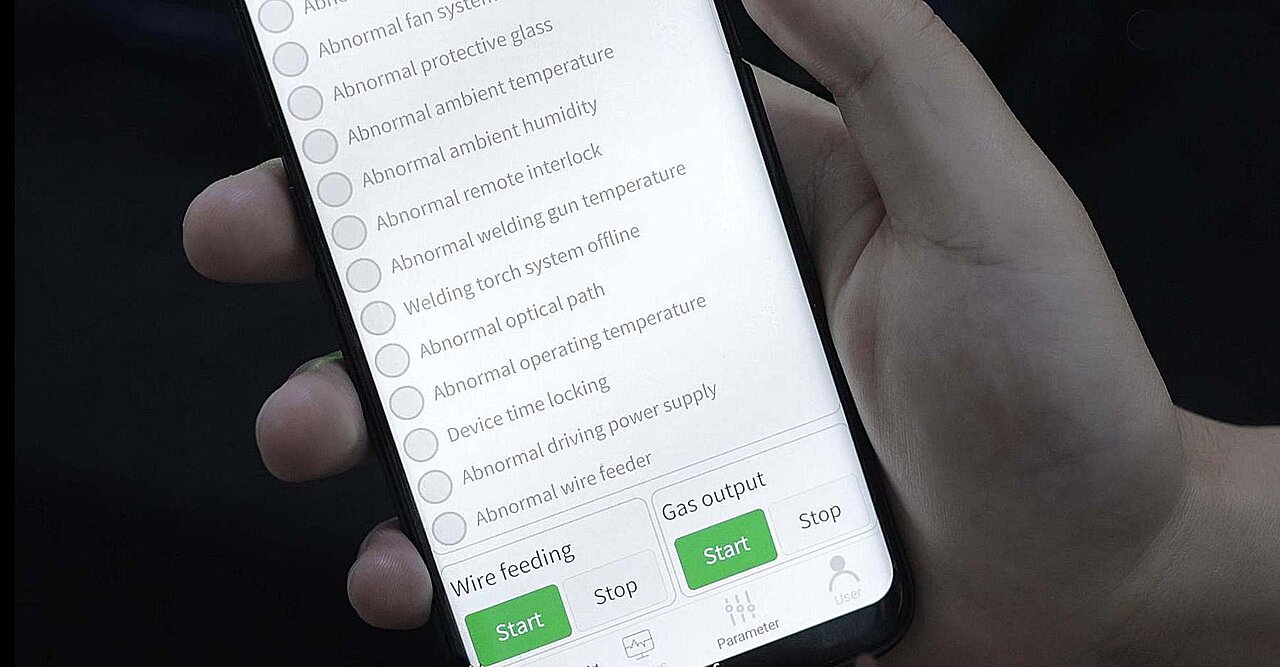 All the Laser Welding Power in the Palm of your Hand!!
Stay always connected with your PhotonWeld A-PRO laser Welding Machine - APP free delivered with machine
All the Laser Welding Precision the Palm of your Hand!!
No more mechanical adjusting of the mirror after dropping the welding torch
When the laserwelding torch is accidentally dropped on the floor or got a hit, there is a great possibility that the laserbeam is not anymore in the center line. As the laserbeam is only 0.1 mm of diameter, or even smaller, the correct central stopping position of it, is very important for a good weld. Adjusting of the laserbam was till now a mechanical precision job that could take a lot of time, which means immediate loss of production. Now with our new app the position of the welding beam can be adjusted in seconds with a slider on the screen of your phone! Finished with losing time. Finished with opening torch and fine mechanical adjusting. Finished with letting dirt into the torch!
Adjusting of the center of the laser beam with only your mobile phone: direct adjusting by bleutooth from mobile phone or tablet.
No more mechanical adjusting of the mirror after dropping the welding torch: Electronic slider control to adjust the laser Center Position
Electronical adjusting of the your laser pointer from your mobile phone
Electronic slider control to adjust the laser Center Position
Adjust the laser position in + and - direction with simply the movement of your finger on our screen slider
Stay always connected with your PhotonWeld A-PRO laser Welding Machine!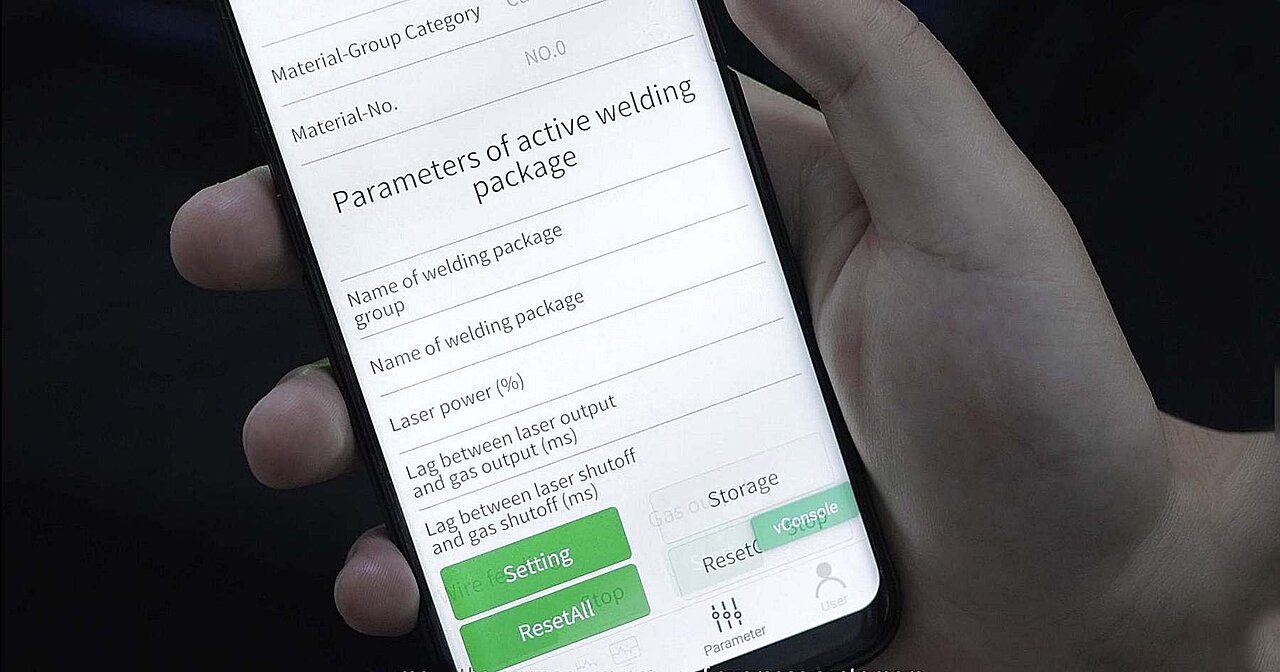 Adjust and create your own welding Parameters
Super Easy selection of Welding settings
Remote controller for selecting optimal process conditions
Welding conditions can be set using our standard delivered dedicated application
This application program is dedicated for the operation of the PhotonWeld A-PRO provided by Lasermach. PhotonWeld-Connect is an application program for selecting, adjusting, and saving welding conditions, monitoring status of, and checking interlocks, warnings, and alarms in the PhotonWeld A-PRO Series. This application is delivered with the PhotonWeld PRO machines or can be downloaded from your app store. Can only be used on our new PRO machine.
PhotonWeld-A-PRO: Factory Presets Ensure Optimized Welds & Cleaning & Cutting
Simple preset selection of material and thickness ensures consistent high-quality laser welds and cleaning
Presets include multiple wobble welding functions to accommodate wider seams and for parts with poor fit-up
Operators can instantly switch between presets to process multiple material-thickness combinations
Advanced operators can customize presets, save for future use and can be used by novice operators to produce the same results
Novice operators require less training which reduces labor costs while preserving quality, increasing productivity and decreasing scrap
Selection of your welding packages by bleu tooth over your phone
Modifying, saving, storing, creating of every possible material with adapted parameters
Bleutooth control center beside the full screen controll center and a cable control
An ethernet computer connection provides access to advanced parameter settings to fine tune and save process parameters.
Ajusting of the center of the laser beam
direct adjusting by bleutooth from mobile phone
Who does not drop once his welding torch?
Who was never using his welding torch not only for welding?
with laserwelding, when dropped on the floor or hit, there is a great possibility that the laserbeam is not anymore in the center line. As the laserbeam is only 0.1 mm of diaameter, or even smaller, the correct position of it is very important for a good weld. Now with our new app the position of the welding beam can be adjusted with a slider on the screen of your phone! Finished with losing time by adjusting manual.
Contact Your Local Distributor